Life After Mac
You had an enriching experience at McMaster but now you're out there in the real world. You'll be facing new challenges and managing your money will definitely get harder. There are simply more things you need to consider after graduating. Don't worry though, we'll still be here for you.
As a new graduate organizing your priorities is an important part to controlling your spending, overcoming unexpected financial changes, and achieving financial goals.
Budget priorities for a new graduate include:
Identifying your "needs" and your "wants" – limit spending on "wants"
Building an emergency fund for unexpected expenses
Paying off your student loans
Building a great credit rating by paying all of your bills on time
Start saving! Look into RSPs, TFSAs or your employer's pension plan.
For more information, take a look at the budgeting infographic.
Tip: You can get an estimate of your anticipated position earnings by using the Wage Search tool from the Canadian Job Bank.
Consider the 50/20/30 Rule
If you don't want to track of all your expenses precisely, keep the 50/20/30 rule in mind to budgeting.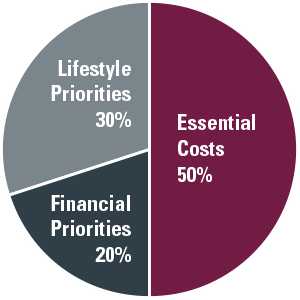 Essential Costs: These are the "needs" you outlined earlier. Some examples include shelter, food, and transportation.
Financial Priorities: This will go towards debt repayment, savings and emergency funds.
Lifestyle Priorities: These are the "wants" you outlined earlier. They reflect what is important to you such as entertainment, hobbies, and fitness.
Tip: Your outstanding student loan amount and required monthly payment is outlined here
Congratulations! Your countless hours of writing cover letters, sending out resumes, and preparing for interviews have finally paid off. Now that you got a job offer you can just accept it, right? It's not that simple. There are a few factors to consider before you accept the job – and it's more than just money.
Continue your research
Researching the company isn't just limited to the interviewing process. It's important to find out what the organizational culture is really like, what kind of work ethic is expected of you and the management style of your boss. What you have read and memorized on the "About Us" page won't suffice. Check out glassdoor.ca and see what former and current employees say about the company. The reviews can give you a rough idea on what to expect.
Does it satisfy your needs?
One of the more obvious things to consider is if the job will satisfy your financial needs. Take into account all the expenses you can expect while working there. If you're unclear on some of the expenses, be sure to check out the Budgeting Breakdown page. You will also need to be aware of the benefits the company is offering such as health and dental insurance, retirement plans, vacation and sick days or parental leave. When you are assessing a job offer you might want to think about the total compensation rather than just the salary. It may actually be better (and more cost effective) to take a lower paying job with benefits than one that does not offer such extras.
It would be wise to think long term as well. Aside from the compensation and benefits, you need to consider the skills you will be learning and the abilities you will refine. Ask yourself if the job will strengthen your career as a whole? Be mindful of the career paths that can open up for you.
That covers some of the more tangible benefits but what about the intangibles? This can be in the form of happiness, motivation, or job fulfillment. This part often gets overlooked when money becomes the motivational factor of getting a job.. However, it is important to consider all of these characteristics. Does the company effectively utilize your knowledge, skills and abilities? Will you find meaning in the work you will be doing?
Consider other potential job offers
You may be in a situation where you get multiple job offers from different companies. Regardless if it's your first choice or not, you should put some thought into it. Thank the employers and let them know you would like a bit of time to think about it. Look at how the jobs stack up against one another and see how well they satisfy your needs. If the companies are in the same industry, you might be able to negotiate some of the benefits. Don't push your luck though! Just be reasonable.
Alternatively, you might be in a situation where you do not think another offer may be coming. If it's not your ideal choice, should you just take it and continue looking for another opportunity? Unless you urgently need it, it would be wise to turn down the offer and keep looking. If you only intend to stay for a few months until you find your perfect job, you're not doing yourself or the organization any favours. It may not bode well for your reputation in the industry and can have a detrimental impact on your professional network.
Now that you have thoroughly evaluated your job offer, it's time to make a decision. After successfully conducting your research, identifying all your needs and considering all your other offers you should have a pretty clear answer on what to do. If you need more assistance, don't hesitate to visit the Alumni Career Services page
What's the deal with insurance?
Young adults often avoid buying insurance because they don't understand it, don't feel they need it or decide that they can't afford it!
This is a pretty common sentiment for many who have limited experience with insurance. Moving out of the home for the first time means that you have to take on adult responsibilities and examine your needs for insuring and protecting the safety of your assets.
If you own a car, the law requires you to have car insurance. Insurance protects you from any damages, and covers your own medical expenses and loss of income from driving related injuries.
Most students don't take advantage of tenants insurances, despite owning a number of valuables. Some of the things you own – computer, cell phone, tablet, furniture and clothes – could be costly to replace in the event of a fire, theft or loss. Tenants insurance is not very expensive, but before you buy, check your family's policy to see if you are already covered.
Life insurance is another type of insurance that is available. The necessity of life insurance for single students is dependent on your personal situation. Obtaining life insurance while young and healthy could save you money in the future. Premiums are lowest as a young adult and when you don't have any pre-existing medical conditions. Choosing to invest in life insurance later in life or after a medical scare could result in exclusions and higher costs.
Car Insurance
In Canada, the law requires all drivers to have car insurance. Driving without coverage is an offense punishable by fines or license suspension/seizure. Insurance for young adults can be very costly and so the more you know the better choices you can make.
Insurance is based on:
Location
Your credit history
Your driving history
Type of car
Age of car
Type of insurance
Do's
Don'ts

Check out your car and its premium before you purchase it. Your insurance could be more than your monthly payment.
Check into deductibles and coverages before entering into a contract.
Shop around to make sure you're getting the best deal you can. You may receive discounts based on your education, workplace or past driving courses.
Check out online prices that deal directly with an insurer as opposed to prices obtained through a broker.
Watch for "add-ons" that might increase costs of insurance and could skew comparison shopping.
Keep the minimal amount of insurance on your car if you are temporarily not able to drive.  Termination of coverage can be very expensive when you try to get it again.
Ensure that if you loan your car to a friend that he/she is insured and is a competent driver. If your car is in an accident, the owner of the car as well as the driver will be liable.

Don't assume 3rd party insurance is cheaper than comprehensive coverage. Third Party Property Car Insurance policies provide you with protection against damage caused by your vehicle to another person's property.  Third Party Property Insurance does not usually provide any coverage for damage to the insured vehicle.
Don't be tempted to lie – insurance fraud has serious consequences. Your claim could be denied and coverage now and in the future, could be cancelled.
Don't let your insurance lapse due to non-payment. Reinstating insurance can be difficult and result in higher premiums – talk with your insurer if you have a financial problem.
Insurance Tips for New Grads
When you are assessing a job offer you might want to think about the total compensation rather than just the salary- it may actually be better (and cost effective) to take a lower paying job with benefits than one that does not offer such extra's.
If you take the higher salary do figure out how you much insurance will cost, how you will meet these needs, and whether you can close the gaps before you sign the contract.
If you are in a relationship, you could talk to your partner about being added to their plan.
There are different types of life insurance – whole life and term insurance. They both have different advantages and disadvantages, before making decisions make sure you understand all the options. A consultation with an insurance broker is recommended.
Insurance can be difficult to get and if you are applying for insurance on your own (not with an employer) you may need to get a physical examination and provide a detailed medical history. You may not get approved if you have a pre-existing condition.
Consider long term disability as a necessary insurance to keep your dependents and yourself in reasonable financial shape. This is particularly important if you are considering self-employment as this coverage is essential.
For general insurance information see www.fsco.gov.on.ca
When does repayment begin?
You must begin to repay your Student Loan(s) when you graduate, leave school for more than 6 months or cease to be a full-time student.
You are allowed a six-month non-repayment period after you leave school before repayment begins where no payments are required; however, interest can accrue. You can either pay the non-repayment period interest off at the end of your six months or ask to have it added to your student loan balance. You are responsible for interest during the non-repayment period for the Canada Student loan, while no interest is charged during the non-repayment period for the Ontario provincial loan. Once you receive your consolidation documents from the service provider you must advise them on how you are going to pay the non-repayment period interest, if you do not notify them the interest will automatically be added to your loan balance at consolidation.
What is consolidation?
When you arrange to repay your Student loans, this is called consolidation.
During the six-month non-repayment period after you leave school, the service provider will mail you a Consolidated Student Loan Agreement for your Canada Student Loan(s), Provincial Student Loan or integrated student loan. This agreement provides information about:
The amount of your loan
Your interest rate
Your repayment term (how long it will take to repay your loan)
The amount of each loan payment
Your first payment date
What am I responsible for?
You are responsible for:
Repaying your loan and all accrued and/or capitalized interest according to the terms of your Consolidated Student Loan Agreement
Notifying the service provider if you change your address, your name or your phone number
Notifying the service provider if you leave or transfer to another school, change your courseload, or change your graduation date
How do I repay?
The acceptable payment methods are:
Pre-authorized Payment Plan
Telephone Banking
Internet Banking
Cheques – Monthly and Post-dated
Money Orders
Bank Drafts
You must ensure that your payments are received at the service provider before the scheduled payment date. If you send the payment on the payment date, it could be received by the service provider a few days after the due date, causing collection activity.
What is the interest rate on my Student Loan(s)?
When you enter into repayment, you can choose between a fixed or floating interest rate for the Canada portion.
Fixed rate: interest rate  is locked in at prime plus 5%  for the duration of your repayment schedule and cannot go back to a floating rate
Floating rate:pay prime plus 2.5% and you'll have the option to change to a fixed rate at any time
The Ontario interest rate will be set at a floating rate of prime plus 1%
Can I claim a tax credit for the interest I pay on my Student Loan?
Yes. A student loan tax credit allows you to deduct the interest that you pay on your student loans each year. This credit applies to interest payments you make on both your federal and provincial or territorial student loans, and the appropriate documents will be sent to you by mail for you to use when you file your taxes. It does not apply to interest payments you may make on any loans held with a private lender such as a student line of credit with a financial institution.
What if I have trouble repaying my loan?
If you have trouble finding employment or find it difficult to repay your Student Loan because of financial hardship, there is help. Programs such as Revision of Terms and the Repayment Assistance Plan are available to either defer or reduce your required monthly payment.  The Repayment Assistance Plan will help you manage the Canada and Ontario Student Loan.
Can I make additional payments to reduce the amount of interest I pay?
In addition to your minimum monthly payments, you can make lump sum payments, or increase your monthly payment amount for your loan at any time during the life of your loans. These extra amounts will reduce your principal faster and therefore reduce the amount of interest you pay on your loan. You can also pay your loans in full at any time without penalty. Contact your service provider to obtain your current balance as it will change daily.
Can I get information on-line?
Yes, there are a number of resources you can take advantage of on the internet. A great resource is canlearn.ca the government of Canada's website to help Canadians save, plan and pay for post-secondary education. It has a lot of information about how to manage your loan(s) as well as a link to the National Student Loans Service Centre (NSLSC) website. The NSLSC website allows you to sign up for an online account and:
Check the status of your student loan
Check the balance of your loan(s)
Review details of new loans you've recently received
Update your Mailing and Permanent Addresses and other contact information on-line
Review your loan payment and transaction history
Receive helpful information about your loan in your Personal Message Centre
Customize your repayment amount ~ use your on-line account to increase or decrease your monthly payment amount
Apply for Repayment Assistance Plan (RAP). If you qualify for RAP, you will have reduced or no monthly payments for up to six months at a time.
Access your T4A on-line: Tax slip is used by the students to declare the amount of grant funding that was received as income on their taxes.
There are many types of fraud and scams you will come across in your life. As a student, you may be more exposed to certain tactics. The best defense against fraud is to be knowledgeable and aware of these situations. Here's a brief rundown of the more common situations you may encounter as a student.
Types of Fraud:
Phishing
This is one of the most common types of scams you will come across. Scammers will pose as a financial institution and will send a fairly legitimate looking email asking you to disclose personal or financial information. The email may mention that there has been a security breach or it simply needs to verify your information. At this point, the scammer will ask you to click on a link and proceed from there.
Tips:
Banks and governments will never ask for your personal information through email
If you are unsure of the legitimacy, be on the lookout for bizarre links or email addresses
Do not reply to or open links from a suspected scammer
Pyramid Schemes
Believe it or not, pyramid schemes still exist in this day and age. As a student, you may be able to identify these scams as job postings that "could earn you hundreds of dollars a day!" and you will be asked to sell a product or service. You will then be required to pay a membership fee to cover the cost of the product you're selling. The only way you can recoup these costs is to sell the product to others.
Tips:
Conduct a thorough research of the company
Be wary of companies that offer compensation for recruiting new salespeople
Do not commit to anything at high-pressure meetings or seminars
Prize schemes
That contest you never entered just called and offered you a trip to the Caribbean! Must be legitimate, right? It's not. This tactic is similar to phishing but information is obtained through the phone instead. The scammer will ask for personal or financial details in order for you to claim your prize.
Tips:
Legitimate lotteries and contests do not require you to pay a fee to collect winnings
You cannot win a contest you did not enter
Do not call or text the scammers to follow-up. You could be charged up to $5 per minute/text!
Service scams
This type of scam may appear to be the most legitimate of all the ones we have mentioned so far. The scammer will ask you to purchase or upgrade a home service. You can encounter this scam in the form of a door-to-door "salesperson." Most commonly, they will ask to see your water heater bill or to perform a routine checkup of your heater.  Alternatively, you may get a phone call from a computer technician who claims they noticed a virus on your computer. They may ask you to buy antivirus software or even worse, try to gain remote access to your computer.
Tips:
Do not discuss your services with a salesperson that represents a different service provider
Do not be fooled into letting the solicitors into your home because of "recent regulatory changes"
GENERAL TIPS
Share your personal information only with companies you know and trust.
Do not provide personal information to solicitors who made the initial contact.
Check your credit report once a year.
If it sounds too good to be true then it probably is!
Old statements, bills and cards should be shredded before you dispose of them
Don't be pressured by offers that are "available for a limited time only!"
If you believe you've been a victim of fraud, check out the Competitions Bureau's Little Black Book of Scam
Tax Free Savings Accounts (TFSA) and Registered Retirement Savings Plans (RRSP) are excellent saving options but it can get confusing when deciding which the best fit is for you.
Here's a more simplified look at each alternative.
TFSA's and RRSP's let you put your money into any type of investment and shelter you from paying tax for as long as the funds are held in your account.
In an RRSP, your contribution is deducted from your income, which may result in a tax refund, but your money will be taxed when you use it down the road.
In a TFSA, you do not get a tax break but when you need your cash it won't be taxed when you take it out.
RRSP's have a contribution limit of 18% of your previous year's income (to a max of $24,270, for 2014) whereas a TFSA has a $10,000.00 limit per year. Both plans allow you to carry forward funds so that you can "catch up" on the years when you weren't able to save.
TFSA's are flexible and if you need to take out funds there are no ramifications.
If you need to access money from your RRSP, say for an emergency, there will be a tax liability payable that year. RRSP's will allow first time home owners a $25,000 withdrawal and for those furthering their education a $20,000 withdrawal is also permissible.
Note: This money must be repaid within ayear time frame or you will face serious tax problems!
If you're trying to decide whether the RRSP tax break makes a better option, one consideration is to look at your taxable income (income after deductions). If it is above $43,561 for 2013 your marginal tax rate jumps into another category, and therefore your RRSP contributions will produce a larger tax refund. Below that line, the benefit of going with RRSPs is not as compelling.
Since withdrawals from RRSP's have such a significant tax consequence, it makes it more difficult to remove funds. This added level of hardship deters many from taking this route and these funds remain invested until retirement.
If your employer matches your contributions to a workplace retirement savings plan you should take advantage of RRSP's. This is "free" money and should be priority over other options if you can't do both.
The accessibility of TFSA's is an important consideration if you have different goals than saving for retirement. If your goals are saving for a wedding, a car, or travel, this may be a better option.
If you are carrying debt, be it a student loan or from credit cards, retiring the debt can be an excellent investment as well. Once you have cleared the debt, beginning a savings plan with the same funds can be a part of your budget.
When you travel out of the country even a minor accident or sickness can become a major problem and an expense. Travel insurance can help ensure that your medical experience is simplified and expenses are covered. It can give you peace of mind and security in a situation that is full of unknowns.
Consider the following typical responses to obtaining travel insurance:
In case of an emergency our government health insurance plan typically only covers a portion of your medical expenses if you are out of the province or Canada. Without additional coverage you could be left with medical bills that could leave you in significant debt.
There are limitations to all types of coverage. For example, your school plan covers you only while you are a student – if you are travelling in the summer you are not necessarily covered. Credit card health plans may have limits on the number of days you can be out of the country or the amount you can claim.
If you travel frequently you should consider a multi-trip annual plan. It offers a more convenient and economical way to purchase coverage and ensures this insurance is in place.
Travel insurance gives you access to non- medical coverage such as trip cancellation or trip interruption services. It also provides insurance against loss or damage to baggage and personal effects. If you are hurt or ill there is a 24 hour help line, and in the US, access to "Doctors On Call". There is often an interpreter service for those in non- English speaking countries.
Travel insurance makes sure that you have no out of pocket expenses. You won't have to worry about your maxed out credit card or having no cash – all expenses are billed directly to your insurer.
DID YOU KNOW?
A four-day stay in a U.S. hospital for an appendectomy could cost $39,400 (USD), with only $1,600 (CAD) covered by your Government Health Insurance Plan (GHIP). A one-day stay in a U.S. hospital for a broken arm and wrist could cost $32,600 (USD), with only $400 (CAD) covered by your GHIP.